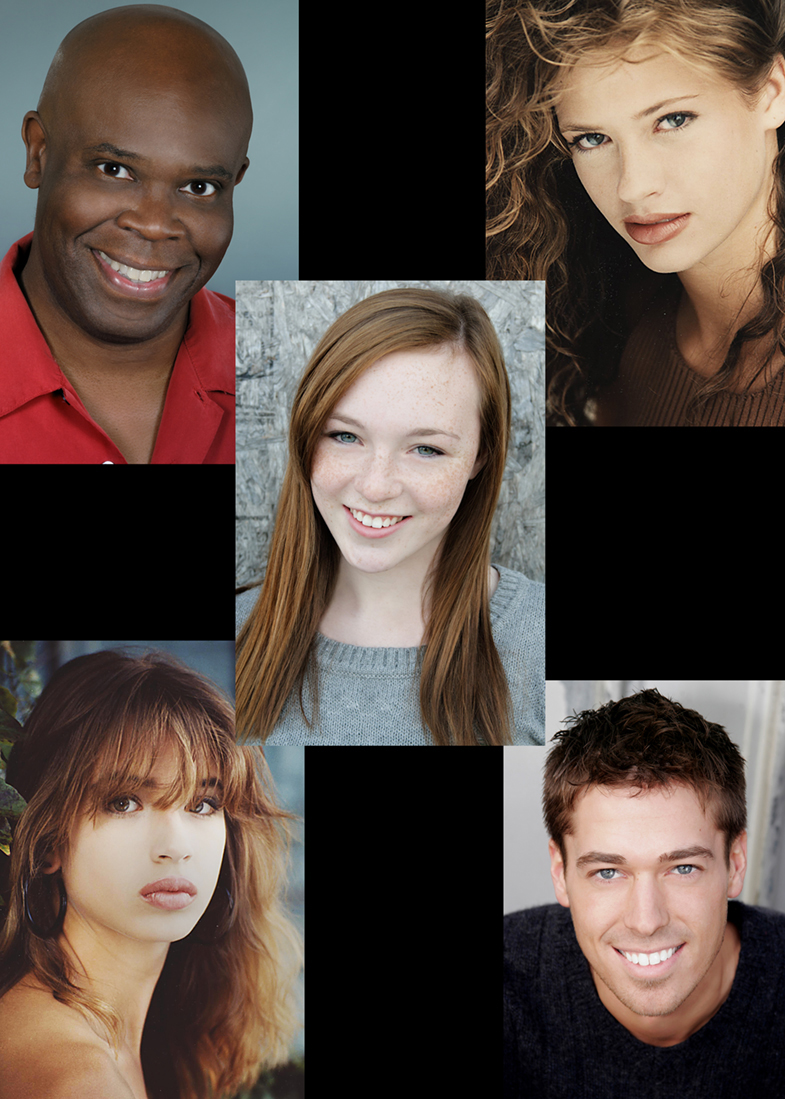 Hair/Make-up: Unless the stylist/assistant asks otherwise, come to the shoot with clean hair and a clean face. See the hair/make-up prep sheet for more info on hiring someone to work with (if not doing your own hair/make-up for the shoot).
Other Tips:
If anything needs doing, do it well before the session. Take a critical look and make any adjustments necessary to get the best results from your session. Consider:
Grooming eyebrows and other excess facial/body hair (above the lip, between the brows, bikini lines, legs, knuckles, etc.). Pluck brows a day or two before the shoot, so you're not red around the area the day of.

Moisturize skin and mouth daily.

If you color your hair, be sure it is freshly done (no roots).
With few exceptions, it is best not to let bangs/hair hang down over the brows.
Trim bangs or 'whispies.' Trim split ends so hair looks healthy and well-cared-for. Do all of this a day or two before the shoot, so the cut is fresh but not 'same day' looking.

Guys should get their hair cut freshened up a few days to a week before the session (you don't want that 'fresh-cut,' school-boy look). 

Men should be freshly shaved (if clean-faced).

An exception to this would be shooting some shots with a bit of growth for a more dramatic look before shaving to do more commercial-looking shots (don't forget to bring your shaving kit).

Another exception will be if you wear a beard. In that case, be sure your beard is groomed nicely before the session.
TANS: If you are having modeling/talent shots taken – unless an agent has specifically told you otherwise — avoid spending hours in the tanning booth and wearing sunscreen at the beach. It is best to come in looking to auditions and castings the way you really look.
Actors are expected to come to auditions looking like your pictures.
Important: Unless your agent tells you otherwise, don't make major changes (hair color/style especially) once you have your talent headshots taken– if you do — you will no longer look like your pictures and will need new ones!
Don't forget to groom your hands/fingers/feet/toes if they are going to be part of the image. Nail polish should be clear or neutral, so your nails go well with everything. Consider getting a manicure before the shoot (guys/gals). There is a $20 minimum fee to fix chipped polish or to match the color of your fingernails and toenails.
Be sure to let the stylist/assistant know of any special considerations (allergies, in particular) — anything else we need to know that would help us to serve you better).
Wardrobe Suggestions:
Talent Headshots: Think in terms of medium tones, open necklines, and simple textures/styles. If you have an outfit that you think would work nicely that breaks the rules (like all black and/or all white), bring it, and we'll take a look at it. Also:
Avoid logos on clothing.

Avoid loud/busy patterns Avoid turtlenecks and distracting fashion accessories.

Textures generally photograph well. Choose colors that compliment your skin tones.

Be sure clothing is in good condition, fits well, is neatly pressed, and that the colors and textures complement your skin and eyes.

Don't forget shoes and simple, non-distracting accessories for each outfit.

If in doubt, bring it. It is better to bring things and not use them than not to bring them and wish you had. If you are willing to haul it in, we are willing to consider it.
Models & Actors: Keep it simple—no jewelry on basic modeling photos (agency preference). Generally, actors are given the same advice. Call to discuss any exceptions concerning jewelry in industry-related sessions. If you have an agent, be sure to check their preferences on wardrobe, accessories, image concepts, etc.
If you wear glasses:
Consider wearing contacts if you have them (and/or wear the glasses as a 'look' if you are going for a character shot).
PLEASE consider carrying a pair of frames without the glass if you want to shoot wearing glasses. Although we can shoot if we must with the glass in, we will spend a great deal of time looking for a way to get the reflections out of the glasses instead of concentrating on getting the best angle/shot for you. Also, glass tends to soften the look of the eyes. For talent people, in particular, that can put you at a bit of a disadvantage because the eyes are the most important part of the image for showing the layers of your personality. The eyes should be crisp and animated. So, if possible, ask your eye doctor for a pair of frames to keep just for photography and bring them on the day of your shoot.
Modeling headshots & portfolios:
Talk to me on a case-by-case basis. In general, much of what is included in the talent headshot section applies to you. However, you have a bit more latitude when it comes to developing your portfolio. Much of what we do with you will depend on where you are in portfolio development and whether you have an agent (who will give her input on what types of shots you need).
In general, especially if you are just starting out:
Keep clothing and accessories simple.

No jewelry for basic comp card pix (for a beauty head or ad style shot, we can discuss jewelry and accessories on a case-by-case basis).

Clothing should show fit well and be in good condition. Consider bringing some or all of the following:

Adults: A simple black dress (Kids: Sunday best) or (guys) suit.

A well-fitted pair of jeans (not the baggies the kids are wearing today; clothing must fit for portfolio shots so agents and clients can see what they are working with).

Women: Bring 'skinny' jeans (where you have to struggle a bit to get 'em zipped up.

A selection of well-fitted, simple tops with various necklines.

Textured sweaters may work for some people if the outfit doesn't overtake you or add weight. Texture photographs beautifully in most cases, so do think flattering style, textures, and neutral colors when putting together pieces for your session.

In general, bring anything and everything you want us to look at, and we will help you decide what is best to wear for the shoot.
IMPORTANT: To get the most from your session:
Put everything together you'll need for the shoot the night before so you don't forget anything and are not rushed the day of.

Avoid late-night parties and sleepovers the night before a shoot. It is important to come to the session well-rested, in a wonderful frame of mind, and ready to give 100%.

Try to get to the studio (or location, if applicable) approximately 15-20 minutes before your scheduled session so that you are organized and ready to go as soon as we are ready.

Try not to book anything important for right after the shoot if we are running behind and/or for any other reason we want or need to keep you over. Also, staying in the moment when you are worried about what comes after the shoot is hard. These shots are significant (to you and us). Try to set yourself up to get the best possible results from your time with us.

Avoid bringing extra bodies to the shoot. Extra bodies are a distraction and can create a potentially dangerous working environment. A lot of expensive and potentially dangerous equipment is used to create your images.
It is important — to maintain a safe and efficient shooting environment — that the only people in the room, while I am working is myself (the photographer), the stylist/assistant(s), and the person(s) being photographed. I reserve the right to make exceptions to this policy if I feel asking someone in will facilitate a more positive, productive session.
Parents bringing children for a photo session:

Please do not bring excess bodies to the shoot (my home studio is not large enough to accommodate extra bodies). 
Parents should consider bringing to the shoot:
Small, clean snacks in case the child gets hungry.

Water, juice, etc., to keep the child (and yourself) hydrated during the shoot.

Be sure your child comes well-rested and fed before your session time, and try not to let them sleep on the way.

Try not to book your child's shoot close to nap or feeding times. 
If your child is not well on the day of the shoot, call ASAP to reschedule. I can work around small bumps and scratches in Photoshop, but I can do nothing to make a child look like he/she feels well when she doesn't.
NOTE: See separate policy sheets on canceling and rescheduling sessions.
IMPORTANT POLICIES regarding booking fees, down payments, and canceling or rescheduling appointments.
The down payment towards your session time is not refundable. You are paying for my time, and if I set my time aside for you, I expect to be compensated. So, when you book a session time, it is in your best interests to arrive well prepared, on time, and ready to give 100%.
If, for any reason, you are not able to make your session, call ASAP to reschedule. If I can re-book someone else into your time slot, I will apply the booking fee to a new session time. If I cannot re-book the time set aside for you, your down payment is forfeited.
NOTE: I may, at my discretion, apply the down payment to a new session time if it turns out the cancellation was due to illness, an audition, or other industry opportunity comes along, or other circumstances come up that I feel are understandable and unavoidable in terms of your not being able to keep your appointment with me. Sometimes — despite our best efforts — things happen beyond our control. I will decide on a case-by-case basis if I should transfer a down payment to a new session time.
Thank you for choosing DLO Productions, Inc. to create these important images for you. I look forward to working with you!