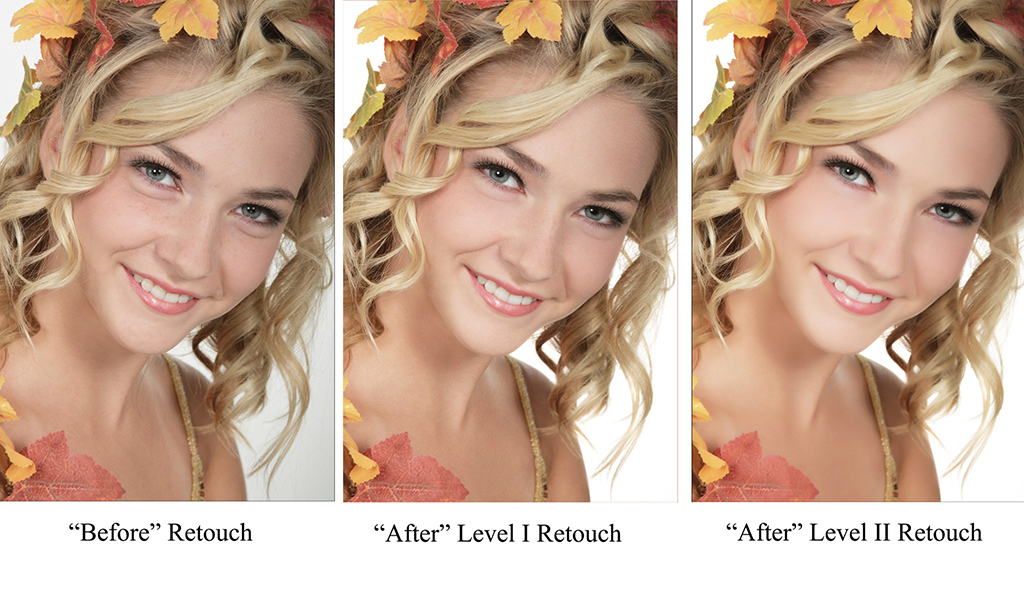 For more information about retouching/enhancement services/fees, contact me via:
• Text: (810) 793-8919
• Email: deborahouellettephotography@gmail.com 
IMPORTANT: No 'Public-Use' images leave the office without a least "Bare Basics" retouch on body shots and Level I on headshots. Retouching is a one-time charge per image (unless you ask for more work to be done on an image once you have approved the order as 'GTG' (Good to Go!). Once an image is retouched, all future enlargements from that image will show the enhancements. I will make the call on what an image needs on an image-by-image basis, but the goal here is to produce a professional-looking result consistent with what my client base and the industry have come to expect from my body of work.
"Bare Basics" retouch: $15 (10 minutes)
Primarily for 'Personal-Use Only' images. However, modeling/talent people can get away with a "Bare Basics" retouch if they have flawless skin and few visual distractions otherwise. Body shots and 3/4 body shots can often go with the "Bare Basics" retouch. Headshots generally require more work; the more you close in on a subject, the more flaws and distractions stand out. I will make the final call about whether a 'Public-Use' image qualifies for a simple "Bare Basics" retouch.
"Bare Basics" retouch includes minimal cleanup of minor distractions like stray hairs, under-eye bags/circles, and minor blemishes. Know you can always start with a "Bare Basics" retouch, view the proofs, and then decide if you need to bump to a higher retouch level if what you want done to the image will require more than what "Bare Basics" covers.
Level I Retouch: $25 (20 minutes)
Level I retouch is recommended for most modeling/talent industry heads and ports, natural-look competition heads, and single-subject portraits. Request a quote for images with multiple subjects.
Level I is a light, natural-looking retouch where we minimize minor distractions (stray hairs, blemishes, under-eye circles, bags, etc.) and a lovely skin blend that softens the sometimes harsh look of digital images. The goal is to retain pores and avoid that 'over-retouched' look. Look to 'A La Carte' retouching fees for more complex retouch/enhancement needs or email for an image-specific quote.
Level II Retouch: $40 (30 minutes)
All competition headshots, beauty heads, and all wall portraits must be given at least a Level II retouch. Includes all Level I touchups plus a gorgeous high-end skin treatment. The goal is to create a lovely final image consistent with the look people have come to expect from my body of work — a look that also wins consistently in local to photogenic international photogenic competitions.
'A La Carte' Retouch/Enhancements: $15 per item (10 minutes).
For things like:
Heavy blemish/wrinkle treatment
Digital 'surgery' (per surgery area)
Braces removal
Hair clone/repair/color
Backdrop swap (3/4 and  headshots created on a high-key (white) background only)
Eyelashes/make-up tweaks
Eyeglass glare
Tooth fix/gap fill (per tooth)
Add wings or other theme portrait embellishments (request a quote if complex image enhancements are needed)
Custom text (like name in flames)
Request a custom quote for complex images (like composites, collages, etc.)
Note: If your retouch/enhancement request require more work than our average retouch or a la carte retouch covers, you will receive a quote to approve before proceeding with the artwork.