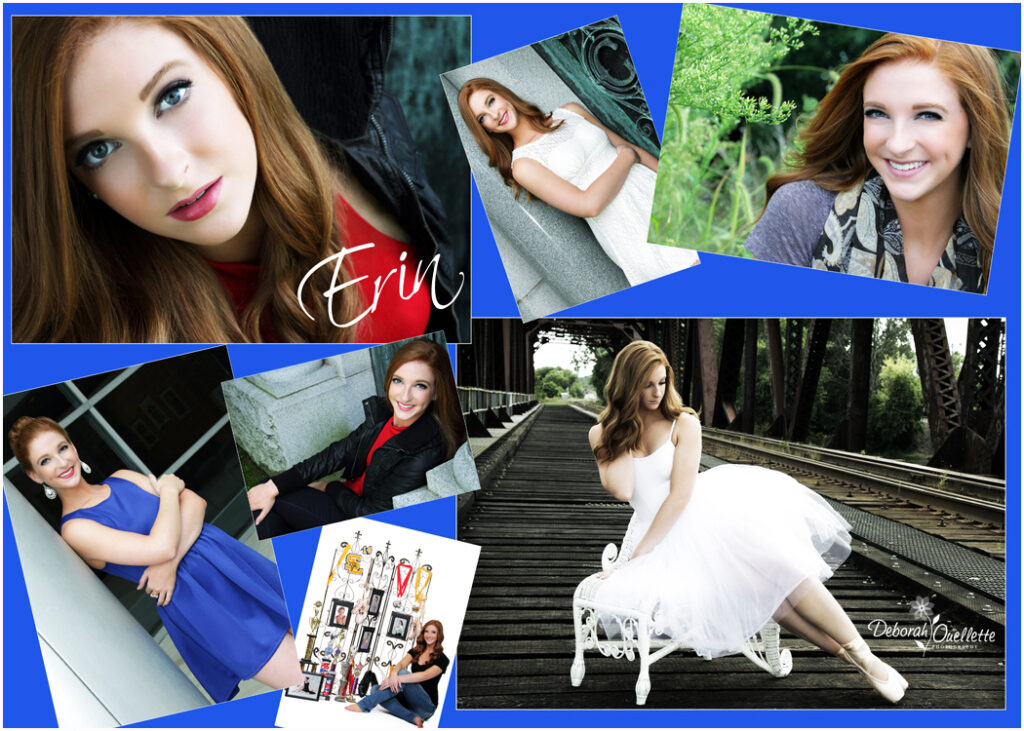 Know that I tend to photograph senior portraits as I do models. My goal is to shoot images that the family — and the student — love. Be prepared to consult before the session to ensure I am creating images you and yours will cherish for years to come.
Some general guidelines to get you started:
Wardrobe choices:
* Consider leaning towards 3/4 length or long-sleeved shirts/tops (especially for headshots — also to avoid showing fleshier parts of arms, which takes attention away from the face).
* Avoid busy patterns (they tend to be a bit distracting).
* Make sure clothing is clean, fits well, and well-pressed.
* Choose colors that compliment your skin and/or eye color.
* Bring a variety of wardrobe choices and accessories. Have fun prepping for your senior/grad session; this is your special day and being photographed should leave you with images and memories you will look back on with pride and joy as you commemorate this important milestone in your life.
* If you're willing to haul it in, I'm willing to help you choose the best outfits, accessories, and props to shoot during your session.
Hair/Skin/Nails:
* If anything needs doing, get it done before you come in to shoot.
* If you color your hair, be sure to get the roots done, ends trimmed, and/or color refreshed several days before your session date/time (you want your hair to look healthy, shiny, and at your best so that you feel and look amazing for your photo shoot).
* Take care of any excess facial hair but make sure you allow time (consider getting it done the day before) so you're not red and blotchy the day of.
* Try not to worry about blemishes. My retoucher is amazing and take care of any skin 'stuff' in Photoshop.
* Keep make-up clean and natural looking (unless your thing is goth, etc.). No glitter make-up (it tends to flare into light spots and will be expensive to retouch, if it can be done at all).
* Consider getting a manicure (guys and gals). Ladies, consider either clear or neutral nail polish so your nails go with anything you chose to wear the day of. Don't forget to do your toes if they will show.
* Guys: If you shave, do it (carefully) before the shoot. If you wear a beard or mustache, be sure it's trimmed up nicely before the session.
* Guys and gals should bring powder (matched well to skin color/type) to tone down shiny skin.
* Avoid overdoing it in the sun (or in tanning beds). It is expensive to touch up tans lines and red skin. Also, when you look back on your portraits in the years to come, you want people to see an accurate representation of who you were the year you graduated.
Glasses:
* To avoid glare and reflections in glasses (also softening of the eyes), consider borrowing or purchasing a pair of frames without glass from your optometrist. Do not wear tinted glasses (they cannot be lightened in post-production). There is an a la carte retouch fee ($20) to remove glare or reflections in glasses.
Hobbies:
* Pets, BFFs, musical instruments, art supplies, sports equipment, car/truck, cheerleading, dance, band uniforms, horse lovers, hunters…you name it. Just let me know of any special shots you'd like taken and I'll do my best to create images you and yours will cherish for years to come!
Other Tips:
* No late night parties or sleepovers the night before a shoot. You want to come well-rested and ready to give 100%.
* Pack everything for the session the night before so you don't forget anything.
* Feel free to bring your favorite CDs (or your IPod) to set the mood for a terrific, fun shoot.
* Practice posing. That will help you relax and feel more confident during the actual session.
* Brainstorm locations to shoot at with your photographer. Really have fun with the entire process. Your photos will be that much better for it.
* Cell phones off during the shoot. To get the most from your time with me, it's best to avoid all distractions. If we have a break for some reason (say, I'm checking lighting or taking a bathroom break), you can check for emergency calls but it is not the best use of your (or your parent's) investment to spend your session time chatting on the phone. Give yourself the full session time to focus exclusively on creating lovely, memorable images and let friends know ahead of time that you are not going to be available to chat on the phone 'til after your photo session.
* Be ready to become a 'quick-change' artist. Changing quickly means more time in front of the camera.
Additional Tips for Parents of Kindergrads
* Avoid booking sessions around your child's nap or meal times.
* Avoid letting little ones fall asleep in the car on the way over to the shoot.
* Be sure to bring small (clean) snacks, drinks, activities, a wash cloth, and a toothbrush (just in case).
* If your child is not well the day of the session, contact me ASAP to reschedule.
* Don't worry about minor skin issues, scratches, bruises, etc. My amazing retoucher will make short work of all that on the images you choose to invest in after the shoot.
* Avoid bringing 'extra bodies' to the shoot (distracting and potentially hazardous).
* Bring something to read or do while your child is being photographed. Parents are allowed in the shooting area while doing hair/make-up but in most cases are not in the room when actually shooting (there are exceptions; I'll let you know when that's the case).
* Do stay within earshot at all times in case I or your child needs you. You will be, for example, changing clothes, wiping noses, and keeping your child safely occupied if/when I or the staff are changing drops, adjusting lighting, using the little girls' room (yep, even we have to take potty breaks…lol!), or otherwise not engaged directly with your child.
* Be sure to let me and the hair/make-up person (if applicable) know if you have any special needs, allergies, etc. we need to be aware of.
Call or e-mail with questions or to book your session.
Looking forward to meeting and working with you!